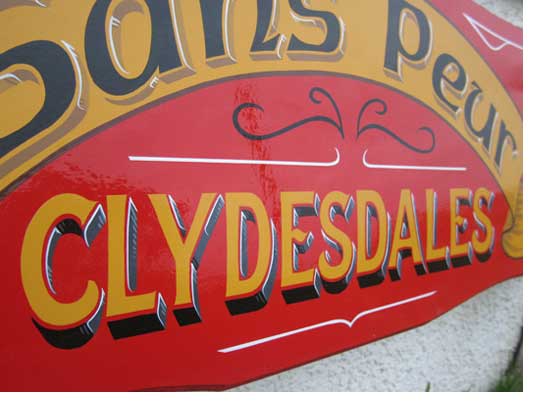 Signs and Signwriting
All hand painted traditional signwriting carried out with the care and consideration a job like this requires.
Hand painted lettering for vehicles, shop fronts, boats, banners, hotels etc...
Customers designs can be accurately reproduced, or I can provide a full design service.
Most of my signs are painted on aluminium sheet, painted any colour you require, but I can work on almost any surface, including wood, glass, plaster & PVC (material & panels).
Some of the surfaces which can be problematic for todays vinyl lettering, include brickwork, Artex, roughcast and corrugated doors, I hand paint my designs & lettering on all these surfaces and more.

Murals, Artwork & Paint Effects
Wall murals of all descriptions, landscapes, realistic, fun, classical - Designs can be provided or reproduced.
Wall lettering & paint effects, including marbling, graining and trompe l'oeil.
Artistic work and special decoration for walls & rooms and indeed anything you require transformed.
See Gallery page for ideas & inspiration
Hand painted Furniture
Well made quality furniture given a unique renovation by my own hand:
First of all pieces are thoroughly cleaned and sanded and any repairs made good, then special primers are applied and allowed several days to cure...
Once colour and design have been determined, undercoats and topcoats are brought on, followed by any paint effects and the addition of bespoke artwork or decoration...
The final stage is a protective coat of hard wearing varnish in a gloss, satin or matt finish, as is your preference.
I have a selection of pieces for sale, or if you have something of your own which you would like hand painted in this way, or just given a 'shabby chic' treatment - I can do that too!
Please . with your requirements.